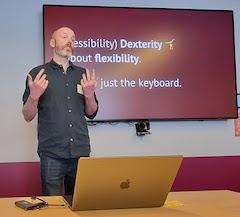 I enjoy sharing what I've learned from all the mistakes I've made: helping people learn new things, or get better at things they already known. I write about it, speak and facilitate workshop at meetups, conferences, and at clients. I do a few talks and workshops a year, often with a friend who I can learn something from.
Workshops and speaking
Here are some recent talks and workshops that I've done.
2023
2022
2021
2020
I've been doing speaking and workshops since October 2014. Have a look at my community archive for the full list.
Writing in other places