Steve Barnett is a human-centered front-end developer and user experience designer. He designs and develops sites and web apps in a future friendly way: with an eye towards inclusive design, accessibility, and performance.
He's been building things for the web professionally since 2005 (and built things for fun for a while before that). He particularly likes working on projects that are open source, that help people, and that have a local flavour.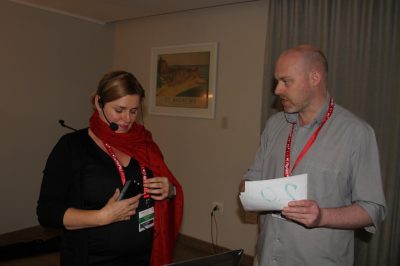 He's worked as a front-end developer and UX person at Unboxed Consulting, Flow (now part of Deloitte Digital), Praekelt Foundation, and as a code mentor at codeX helping people learn front-end and back-end development. Since October 2016, he's been consulting full-time and has worked with teams at dev shops, design studios, and more. Clients include Prodigy Finance, Code Collective, SnapScan, Fire and Lion, Isoflow, WorldAware, MDA Property Systems, and Vulcan Labs. In January 2020 he joined Totara Learning as a front-end developer, specialising in accessibility. In August 2021 he started a full-time permanent position at Xero as a Technical Digital Accessibility Analyst.
He enjoys sharing what he's learned from all the mistakes he's made: helping people learn new things, or get better at things they already known. He writes about it, speaks and facilitate workshops at meetups, conferences, and at clients. He does a few talks and workshops a year, often with a friend who he can learn something from.
Recent work
Here are a few of his favourite projects from the past few years.
Part of a team building out a dashboard and management app for student loans. Updating and adding new features to a React app, using Jest and Enzyme for testing, Redux and Saga for state.
Providing a UI and UX balance on a team that's strong on front-end development.
Improved clarity and performance of a legacy ASP.NET Web Forms application by refactoring HTML and CSS, making it responsive, and applying updated designs.
Made front-end more maintainable by doing a large scale refactor of legacy CSS mixed with Bootstrap. Designed new features in Balsamiq then pair programmed to build them.
Increased conversion and speed of customer sign-up process by conducting UX review and working with Ruby on Rails developers and UI designers to implement the changes.
Improved speed, accuracy, and clarity of the team's in-app compliance workflow by interviewing Operations staff and running usability tests. Pull Requests for code reviews.
Found compromises between desirable and feasible to speed up workflow and improve consistency of implementation by working with UI and UX Designers to build style guides.
Increased speed of workflow, improved code quality, and developed team standards by coaching front-end development team. Introduced Pull Requests for code review.
Produced a huge multiformat economics textbook using Liquid-flavoured HTML (Jekyll), Sass (including complex Paged Media styles), and progressively-enhanced JavaScript.
Designed GUI wrapper of text editing, version control, and build processes using sketches and annotated wireframes in Balsamiq. Improved the flow with usability testing.
Developed and taught the "Evaluating Design with User Testing" module of the BA in Interaction Design. Covered User Experience, Agile and business, and learning and neuroscience topics. Gathered regular student feedback to continuously improve.
Elsewhere
He's on Medium as @maxbarners, on GitHub as SteveBarnett, on LinkedIn, and on this site as, erm, himself. He's often got his nose in a book, or a camera pointed at something a bit odd.
He loves open source so he keeps lots of things on GitHub like the contract he uses, the questions he asks clients, a template for lightweight UX Personas, checklists for UX and accessibility, and retrospective templates.
You can drop him a line at [email protected]. Sometimes he writes things about himself in the third person and it feels a bit odd ¯\_(ツ)_/¯.