Steve Barnett is a human-centered front-end developer and user experience designer. He designs and develops sites and web apps in a future friendly way: with an eye towards inclusive design, accessibility, and performance.
He's been building things for the web professionally since 2005 (and built things for fun for a while before that). He particularly likes working on projects that are open source, that help people, and that have a local flavour.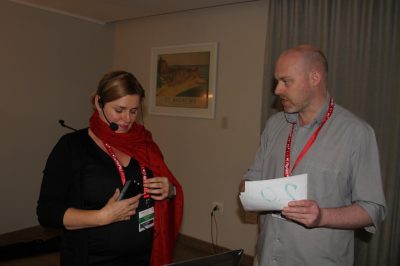 He's worked as a front-end developer and UX person at Unboxed Consulting, Flow (now part of Deloitte Digital), Praekelt Foundation, and as a code mentor at codeX helping people learn front-end and back-end development. Since October 2016, he's been consulting full-time and has worked with teams at dev shops, design studios, and more. Clients in Cape Town in South Africa included Prodigy Finance, Code Collective, SnapScan, Fire and Lion, Isoflow, WorldAware, MDA Property Systems, and Vulcan Labs. In January 2020 he moved to Wellington in New Zealand and joined Totara Learning as a front-end developer, specialising in accessibility. In August 2021 he started a full-time permanent position at Xero as a Technical Digital Accessibility Analyst.
He enjoys sharing what he's learned from all the mistakes he's made: helping people learn new things, or get better at things they already known. He writes about it, speaks and facilitate workshops at meetups, conferences, and at clients. He does a few talks and workshops a year, often with a friend who he can learn something from.
Elsewhere
He's on Medium as @maxbarners, on GitHub as SteveBarnett, on LinkedIn, and on this site as, erm, himself. He's often got his nose in a book, or a camera pointed at something a bit odd.
He loves open source so he keeps lots of things on GitHub like accessibility demos and tests, notes-to-self on the WebAim Million, retrospective templates, and checklists for UX and accessibility.
You can drop him a line at [email protected]. Sometimes he writes things about himself in the third person and it feels a bit odd ¯\_(ツ)_/¯.