JAFAC was really great! It's given me lots to think about it, and I have many pages of notes and TODOs.
I really felt like "these are my people". Agile folk, mostly coaches. People who put people first and understand that a company, more than anything else, is its people.
Below are just my sketchnotes of the talks: just half of the conference and not nearly half of all the ideas that I have!
Day one
Text version of sketchnotes of "Being unapologetically you AF – Emma Kirkman"

The time for a map is before you enter the woods
Do a 3 + 3 map: your three value drivers, your three best qualities
Learn out loud
Preserve the core, disrupt the edges
Identity drives processes drives outcomes
Text version of sketchnotes of "Building an efficient and adaptable learning organisation – Andrew Mayfield"

Understand the context
The structure of products often resemble the structure of the company
Company culture is like yoghurt or kombucha: it grows on its own. You can only set the conditions, environment.
Do things as experiments.
Coaches can be key: one in every team.
Every person has two hats: squad (primary, cross-functional); faculty (role-based, coaches)
.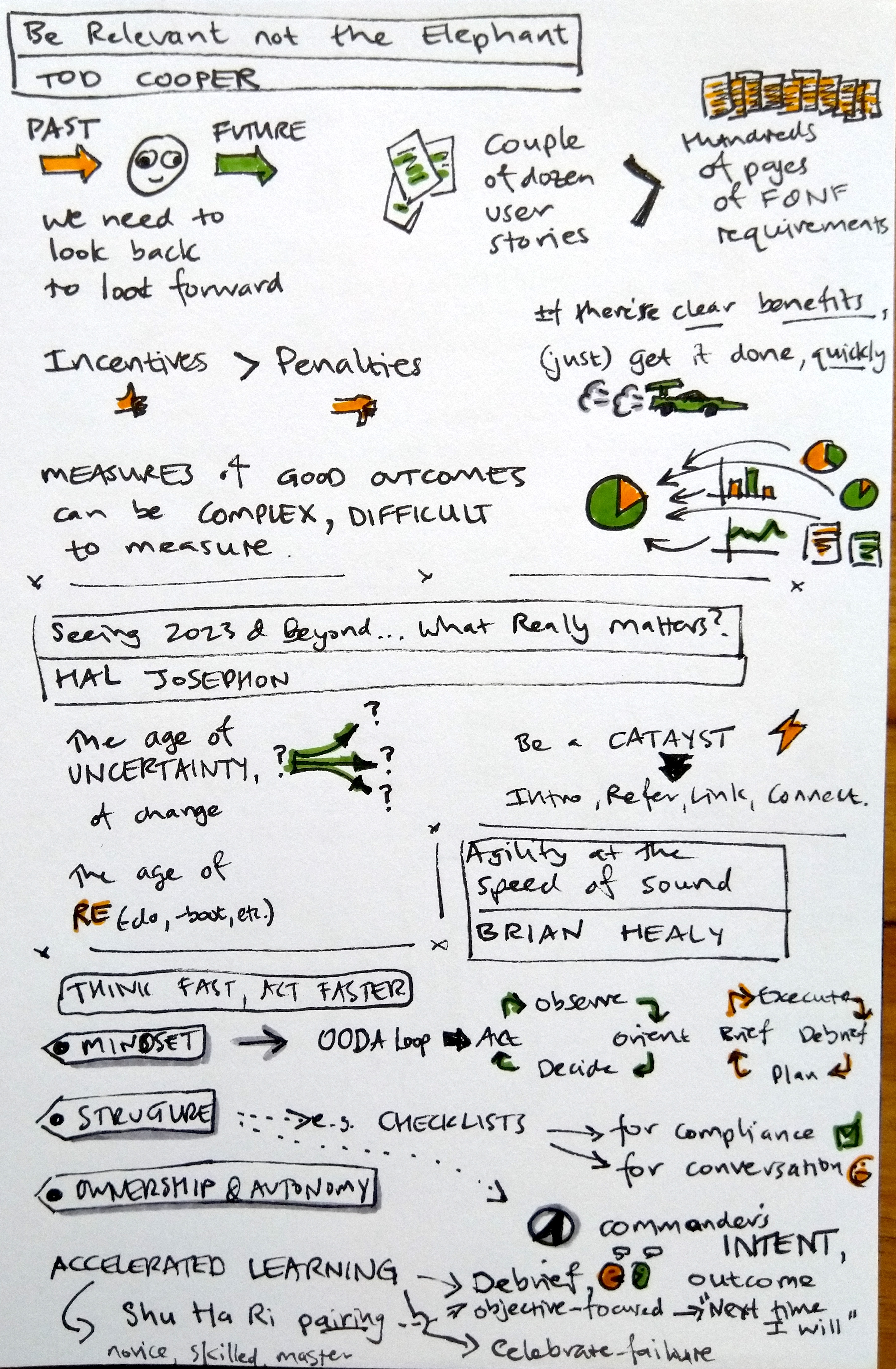 Text version of sketchnotes of "Be relevant not the elephant – Tod Cooper"

We need to look back to look forward
A dozen user stories are worth hundreds of pages of functional and non-functional requirements
Favour incentives over penalties
Good outcomes can be complex and difficult to measure
If an action has clear outcomes, (just) get it done, quickly
Text version of sketchnotes of "Seeing 2023 and beyond… What really matters – Hal Josephson"

The age of uncertainty, of change.
The age of re(-do, -boot, -make, etc)
Be a catalyst: intro, refer, link, connect.
Text version of sketchnotes of "Agility at the speed of sound – Brian Healy"

Think fast, act faster
Mindset

OODA loop (Observe, Orient, Decide, Act)
alternative loop Execute, Debrief, Plan, Brief

Structure

Checklists can be for compliance or for conversation
Align with the commander's intent

Ownership and autonomy. Accelerated learning

Debrief. Objective-focused, "Next time I will"
Celebrate failure
She Ha Ri pairing. From novice to skilled to master. Follow the rules, break the rules, transcend the rules.
Day 2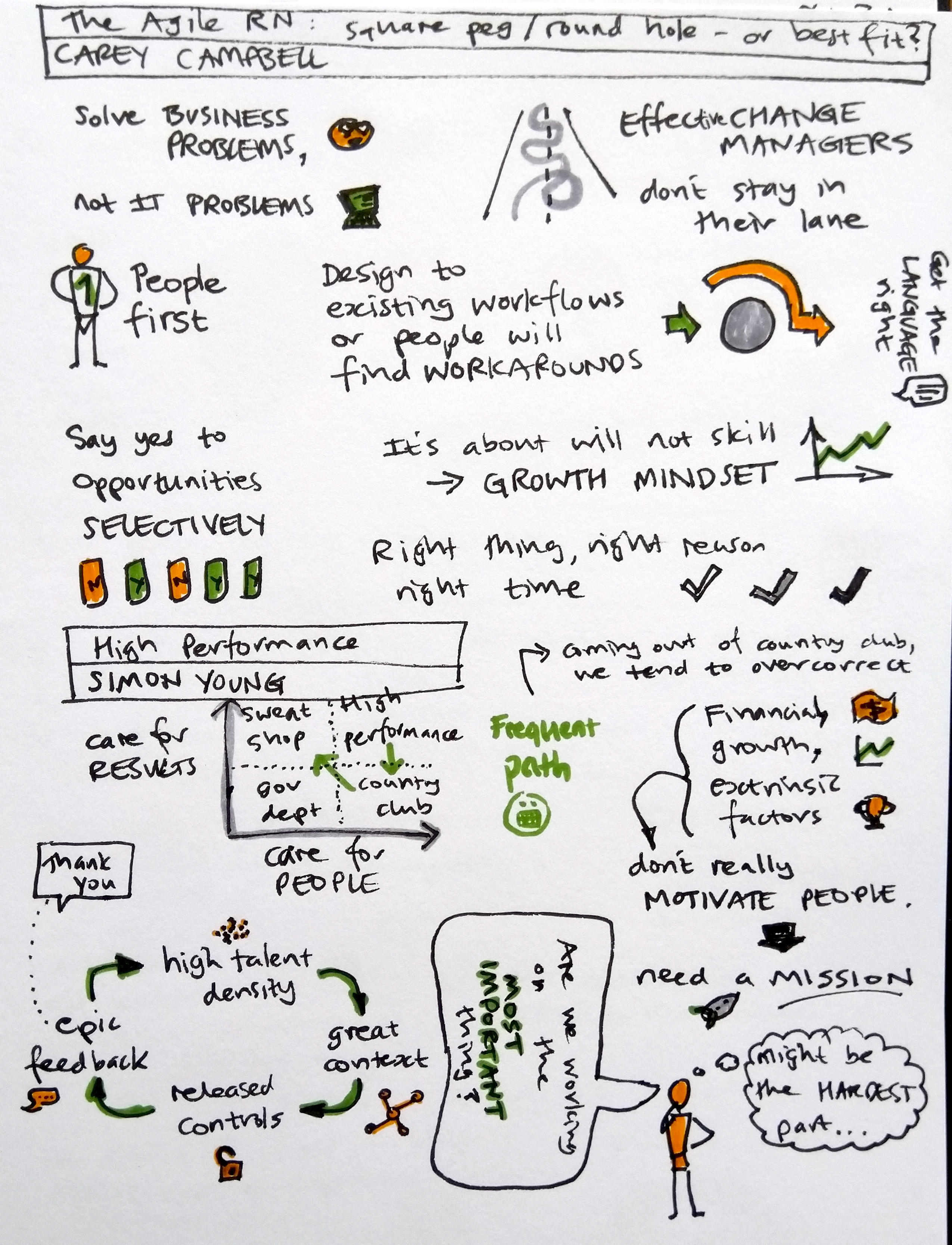 Text version of sketchnotes of "The Agile RN: square peg / round hole - Or best fit? – Carey Campbell"

Solve business problems, not IT problems
Effective change managers don't stay in their lane
People first
Design to existing workflows or people will find workarounds
Get the language right
Say yes to opportunities selectively
It's about will not skill: growth mindset
Right thing, right reason, right time
Text version of sketchnotes of "High performance – Simon Young"

Care for results, care for people quadrant

Low care for results, low care for people: government department
Low care for results, high care for people: country club
High care for results, low care for people: sweatshop
High care for results, high care for people: high performance
A frequent path is High performance to country club to sweatshop. Coming out of country club we tend to overcorrect.

Financial growth and extrinsic factors don't really motivate people. You need a mission.
Are we working on the most important thing? Might also be the hardest thing.
Flywheel: high talent density, great context, released controls, epic feedback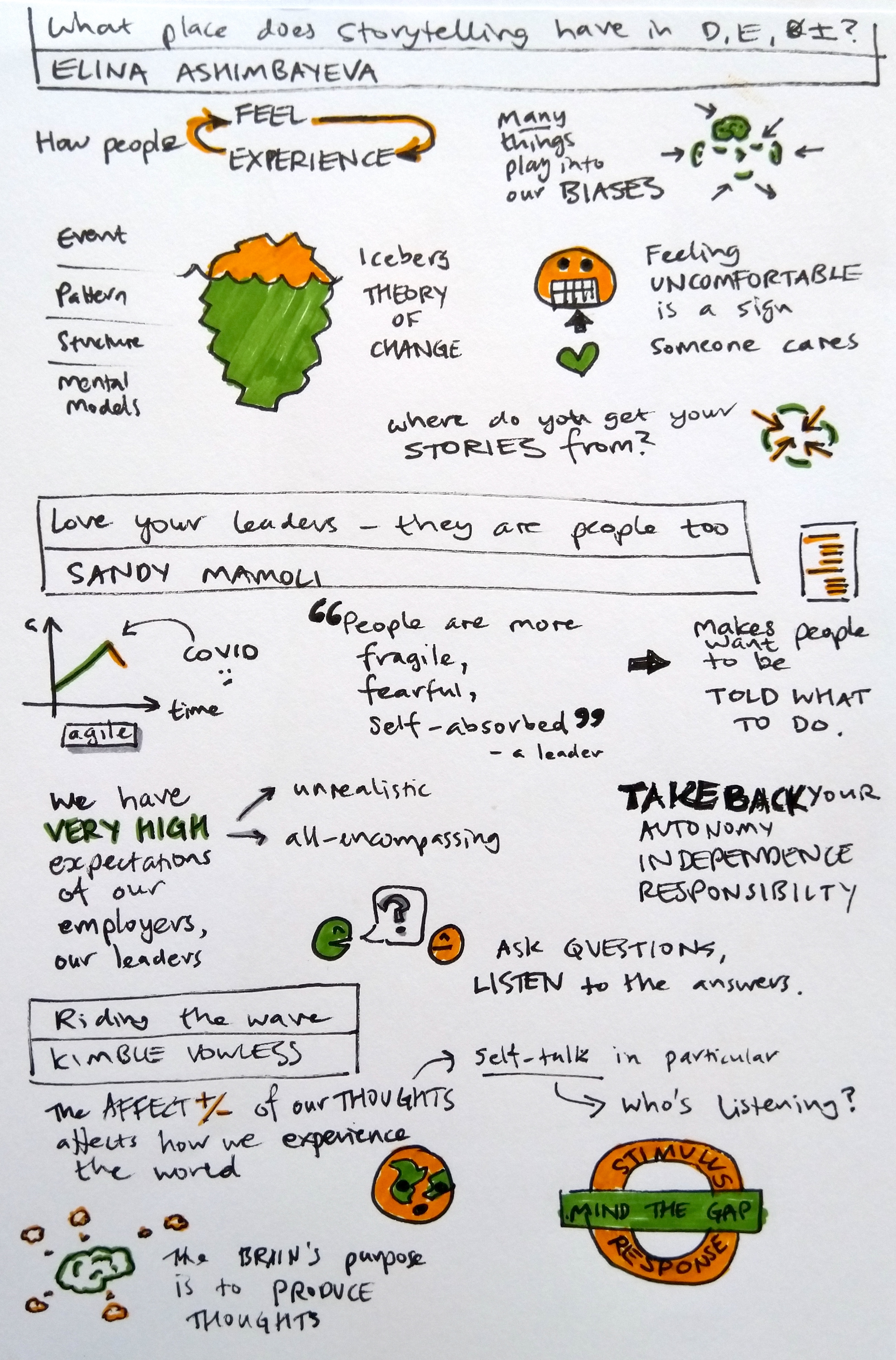 Text version of sketchnotes of "What place does storytelling have in DE&I – Elina Ashimbayeva

How people feel, how people experience
Many things play into our biases
Feeling uncomfortable is a sign that someone cares
Where do you get your stories from?
Iceberg theory of change: event, pattern, structure, mental models
Text version of sketchnotes of "Love your leaders - they are people too – Sandy Mamoli"

COVID hit agile practices hard
"People are more fragile, fearful, self-absorbed" – a leader. Makes people want to be told what to do
We have very high expectations of our employers, our leaders. Unrealistic, all-encompassing.
Ask questions, listen to the answers
Text version of sketchnotes of "Riding the wave – Kimble Vowless"

The affect of our thought affects how we experience the world. Self-talk in particular. "Who's listening?"
The brain's purpose is to produce thoughts
Mind the gap between stimulus and response.