Alla Kholmatova's book, Design Systems, is great. I found it was a good mix of things I didn't know and things that I knew, but because Kholmatova explained them so clearly, I now understand.
Here I'm pulling together my notes and thoughts to apply what I learned to my next project. It's a little bit more bullet-y and checklist-y than article-y. I've added stars ★ to the bits that really jumped out at me, or had me nodding along as I was reading.
Design Principles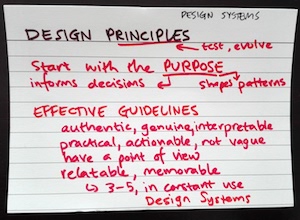 Start with the purpose: it informs decisions and shape patterns.
★ Have 3-5, in constant use.
Make them actionable, opinionated, memorable
Test and evolve them over time.
Functional Patterns (think HTML)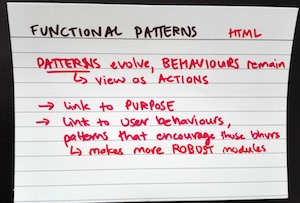 Patterns (view them as actions) evolve, behaviours remain.
Link them to the purpose.
★ Link them to user behaviours, patterns that encourage those behaviours. Makes for more robust modules.
Perceptual Patterns (think CSS, JS)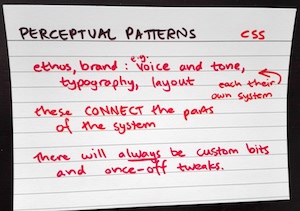 Ethos, brand. Examples (each has their own system): voice and tone, typography, layout.
★ These connect the parts of the system.
Note: there will always be custom bits and once-off tweaks.
Shared Language
Bridges the gap between the system image and the user model.
★ Know the most effective patterns and what makes them work.
Wording is fundamental

Names shape an object's future.
Don't use presentational ones.

★ Good names: are based on metaphors; have personality; communicate the purpose; give guidance / inspiration on where to use.
Name collaboratively.
Refer to them by their name in day-to-day conversations.
Planning and practicalities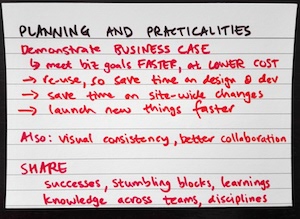 Show the business case

★ Meet the business goals faster, at a lower cost
Reusable, so save time on design and dev
Save time on site-wide changes
Launch new things faster

Also: visual consistency, better collaboration
Share successes, ★ stumbling blocks, knowledge across teams and disciplines
★ The right approach is one where you can manage the downsides.
Systematising Functional Patterns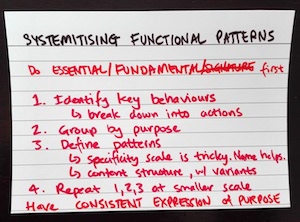 Do the Essential / Fundamental patterns first.
Identify key behaviours.
Group by purpose.
Define patterns.

Specificity scale is tricky. Name helps.
Content structure, with variants.

Repeat 1, 2, 3, at small scale.
Have consistent expression of purpose.
Systematising Perceptual Patterns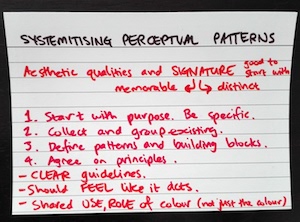 Do the aesthetic qualities and signature (memorable, district) patterns first.
Start with purpose. Be specific.
Collect and group existing.
Define patterns and building blocks.
Agree on principles.
Note
★ Clear guidelines.
★ Should feel like it acts.
Shared use, role of colour (not just the RGB).
Pattern Libraries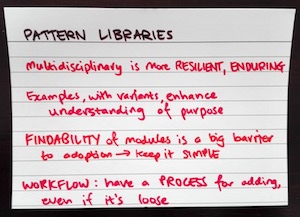 ★ Multidisciplinary is more resilient, enduring.
★ Examples, with variants, enhance the understanding of the purpose.
★ Findability of modules is a big barrier to adoption. Keep it simple.
★ Workflow: have a process for adding, even if it's loose.