I love User-Centered design. And I love obsessing about process, in a frameworks kind of sense. At work, we've been talking a lot (and blogging a bit about process, and iterating on ours. Here's what we've got at the moment.
Our big picture looks a bit like this:
Diving into a bit more details, our Persona creation process looks like this: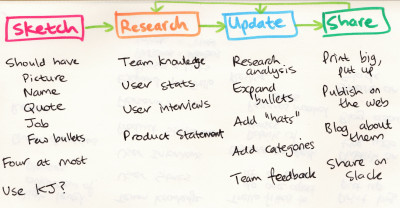 A process for creating Personas
Sketch
Should contain:

Picture
Name
Quote
Job title
Few short bullet points

Four personas at most
Use KJ method exercise to generate?
Research
Existing team knowledge
User statistics
User interviews
Product positioning statement
Update
Analysis of research
Expand bullets into paragraphs
Add "hats" or dimensions
Add categories
Team feedback
Share
Print, put up on wall
Publish on the web
Blog about them
Share with team on Slack
Our User Flow / Customer Journey Map process looks a bit like this: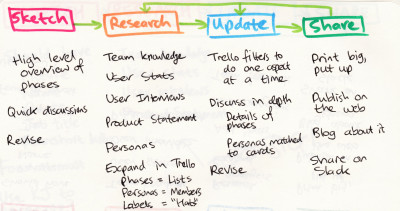 A process for creating User Flows
Sketch
High level overview of phases
Quick discussions
Revise
Research
Existing team knowledge
User statistics
User interviews
Product positioning statement
Use Personas
Expand sketch in Trello

Phases as Lists
Personas as Members, with photos
:) and :( as delighters and pain points
Labels as "hats"
Update
Use Trello's filters to view one aspect as a time
Discuss in depth

Details of each phase
Personas matched to cards

Revise
Share
Print, put up on wall
Publish on the web
Blog about it
Share with team on Slack