Last night I went to the November UX Craft meetup and listened to Dennis Williams from kalahari.com and Vaughn Gunnell from Tag Worldwide talk about all things UX. Below are some brief notes I made.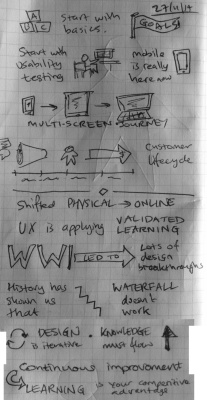 Dennis's talk
Start with the basics: the user goals and usability testing.
Multi-screen journeys are very important today.
Look at your customer lifecycle.
Vaughn 's talk
User Experience is applying validated learning.
Design is iterative and knowledge must flow up the organisation
Continuous Improvement is your competitive advantage.