I've always enjoyed scribbling things. After seeing other people taking visual notes at conferences and of books and things, I decided to try my hand at it. I grabbed (and raced through) The Sketchnote Handbook by Mike Rohde and started doing sketchnotes at meetups and conferences. Here are some examples of my scribbles.
I did sketchnotes of some of the talks I attended. The conference had several tracks, and I picked talks and workshops that were more human-centered, about psychology and behaviour change.
I did some sketchnotes of some of the talks, and ran a workshop on Inclusive Design with Nicola du Toit.
How to make your team five times more productive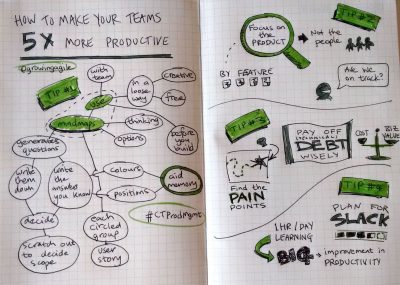 Make design critique part of your process: workshop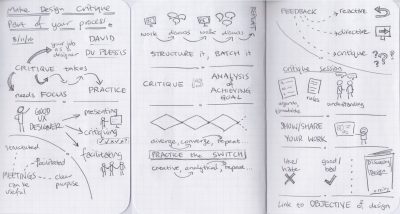 3 and 4 November 2016
12, 13, and 14 September, 2016
I was official sketchnote artist and took visual notes at every session.
8 and 9 September, 2016
I took notes of a handful of the talks (and ran a workshop on Front-end Performance).
I read and thoroughly enjoyed this book. As I was reading, I took some sketchnotes. I've used some of the ideas in the book to co-create and co-run a series of workshops on accessibility and inclusive design: here are the materials from the latest version (we gather feedback each time and try and improve it for the next time).